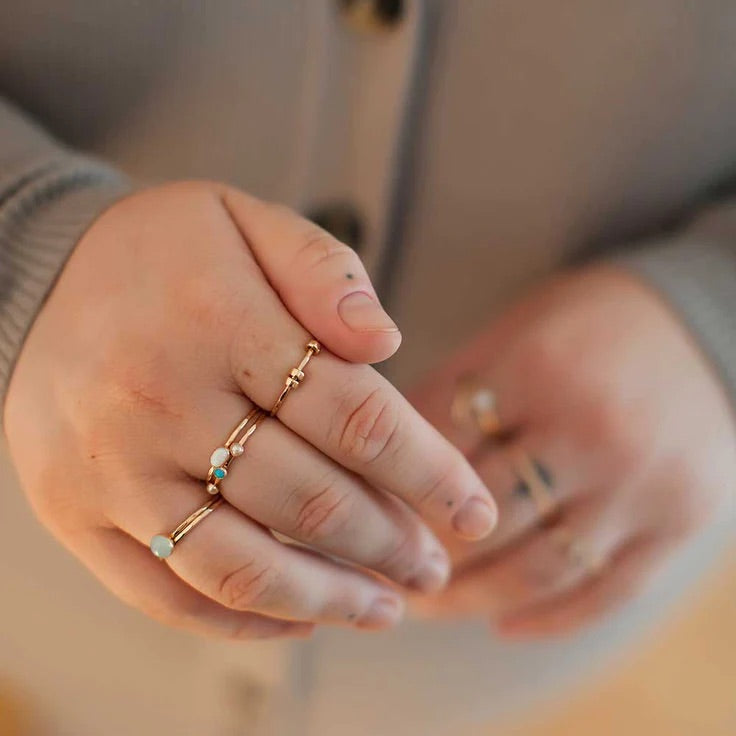 Ring Sizing Tips
(1) Your ring should have some resistance as its being removed. Depending how your hand is built (i.e. larger in the knuckle or larger between the knuckles), the ring should catch on the knuckle or on the bit between the knuckles. 
(2) Your finger can vary one-half to one-full size during the day, depending on your exercise, salt or alcohol intake, or the weather. It's best to measure your finger at the end of the day so it's at its largest. Your ring will be more comfortable and not too tight that way.
(3) Our rings are made of sterling silver and 14k gold fill, which means you can wear them in water, while washing hands, sanitizing them, showering, etc. 
Unsure of your size? Grab one of our re-useable ring sizers to help you determine the perfect fit.

Please not: Rings are made to order and can be re-sized for a fee.
Contact us with any questions about ring sizing!
Ring size
Unsure of your ring size? Order one of our re-useable ring sizers to ensure the correct fit and avoid re-sizing fees!
Option 1: If you have a ring and like how it fits but don't know what size it is, follow these steps:
(1) Lay your ring flat on a ruler.
(2) Measure from one inner edge across to the other inner edge (inside diameter). Do not include the thickness of the ring band in your measurement!
(3) Use the size chart to determine the closest fit.
Option 2: If you don't have a ring and want to know your size, please purchase one of our re-useable ring sizers. Rings are made to order and can be re-sized for a fee.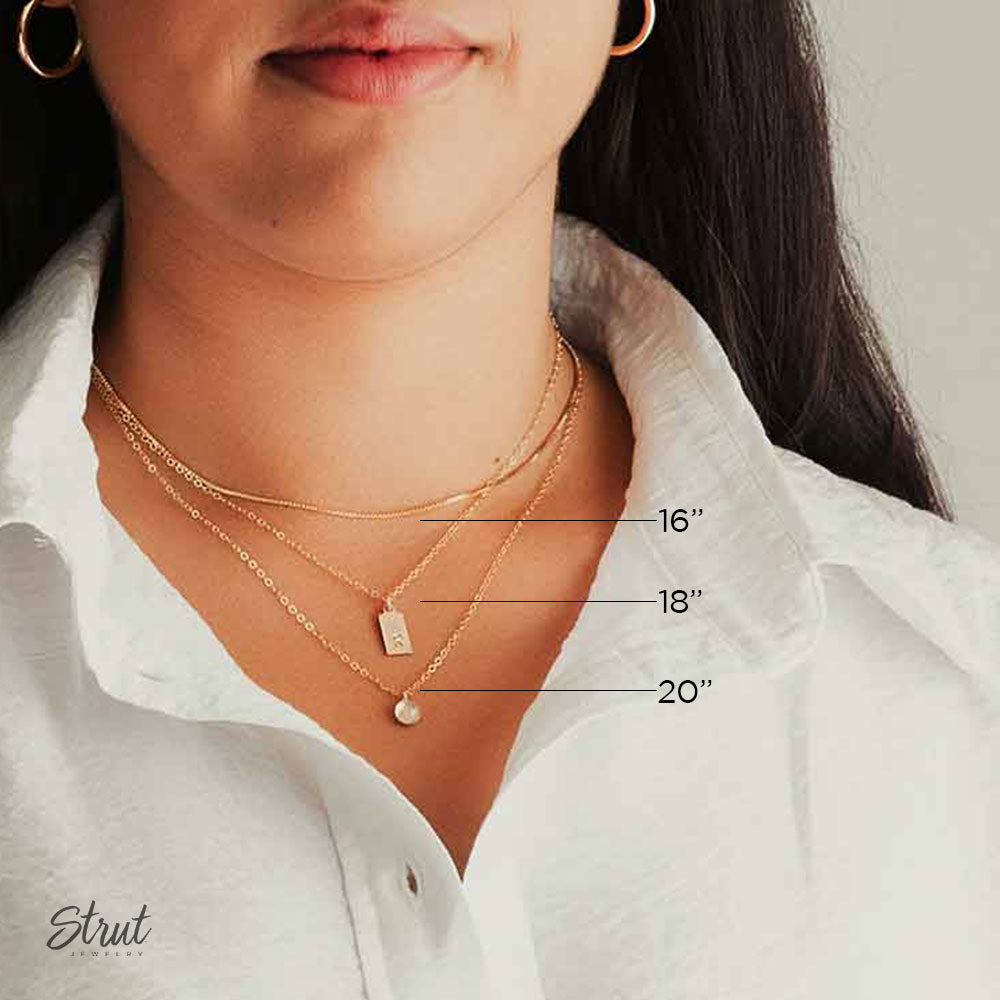 Necklace sizing tips
The easiest way to measure yourself for a necklace is with a piece of string or thread.
The photo gives an idea of where different lengths will fall, but this won't be the same on all bodies. It's best to measure if possible.
Follow these easy steps:
(1) Locate a piece of string, a ruler and some tape.
(2) Place some tape on the end of the string, and tape it to the back of your neck.
(3) Lay the string around your neck at the desired length, cut and tape it to assess if it's comfy (you can play around here, or you can cut multiple lengths to try)
(4) Measure the final result and choose the closest length from the necklace listing.
REMEMBER! All our necklaces come with a free 2" extender already attached, so you can adjust the necklace an additional 2" from its base length.